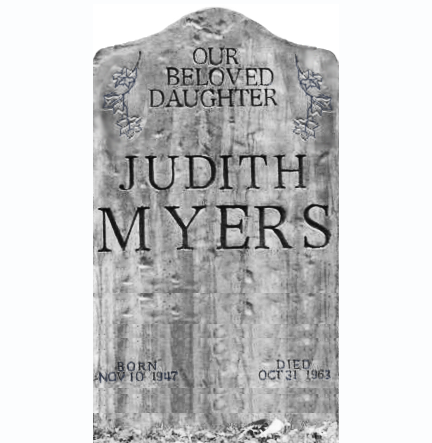 Judith Myers Tombstone decal indoor/outdoor
SKU:
JudithTombstoneDecal
Handcrafted by Sandy Johnson. Waterproof Decal of Judith Myers Tombstone. Indoors/Outdoors Size 3" x 4.5" Can be placed on vehicle or building windows. Includes application instructions. This item
does not
include an autograph. Free shipping provided by
Unicornsandyj
.
judith myers tombstone
​
​The Official Halloween Judith Myers Tombstone 1978 Prop is brought to you by UnicornSandyj and Compass International Pictures!
This prop is made of high-quality dense insulated foam board, giving it a screen-used appearance and feel.
This Tombstone is a one-to-one replica of what you see on the screen, sculpted by Darren Roberts and using actual screen used patterns provided by Compass International Pictures.
The Halloween Judith Myers Tombstone Prop from 1978 is 3" x 4.5" Can be placed on vehicle or building windows.
So get your Official Halloween 1978 Judith Myers Tombstone Prop now and commemorate "The Night He Came Home" on Halloween.
​"This Halloween, finish off your garden cemetery display by paying homage to one of your favourite horror films with this officially licenced Judith Myers Tombstone." Everyone is familiar with the story of Michael Myers assassinating his own sister Judith, and now you can commemorate this iconic film moment with this Judith
Tombstone Myers
.